Me rn.
Guys, I ate a peach gummy and I'm kinda high rn.
Also just wanna say sorry I haven't been keeping up with all the write-ups.  I know that was kinda one thing that separates this league from other leagues (at least I think that's why people like this league), but there just aren't enough hours in the day for me to get it in on time every week.  This week I used an elaborate formula to generate power rankings specifically for mother fucking week 8 based on The Sharpe Ratio, current roster scores generated by FantasyPros, as well as Points For and overall record etc.
Don't forget about the early game in London, set your Washington and Cincinnati players on time if you're starting them.  Good luck in Week 8.
Oh FUCK yes.
1. J.J. Wattshappenin' – Our league's top dog is cruising by the regular season in incredible fashion.  They absolutely crushed Bangers and Thrash by putting up an impressive 126 points which earned them back 2 back Bacon Banners in their 4th consecutive win.  This juggernaut, lead by Mike Evans, Julio Jones, and LeGarrette Blount, has been torching the scoreboard by racking up over 100 points every matchup since week 3.  We'll see if they can continue bringing the heat this week against Four Loko Power Trip.
Rrrrrreeach!
2. FAF HAM – Steadily improving over the last 3 weeks, FAF HAM finds themselves tied for 1st in the big bad Biggie division.  They've scored below 80 points only once this season and have allowed the 2nd fewest points.  Things are looking good from 1st place, but they are looking a little banged up after losing C.J. Anderson and possibly Lamar Miller.  We can all take a god damn victory lap now after insisting C.J. was a reach.  (JK). If Miller is out, they'll need their bench to step it up if they want to seperate from the pack.  FAF HAM looks to get their 3rd consecutive win against Bangers and Thrash in week mother fucking 8.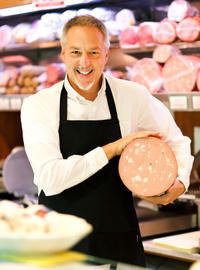 Gourmet Bologna.
3. Pool Rats – Our main man, Tony Tony Tony, has conjured up some tasty ass bologna.  The aquisition of of Jac Rodgers and Spencer Ware has really kept this team alive, to the point where they aren't really missing Le'Veon Bell.  Only one game behind, the Pool Rats are gunning for 1st place in the Biggie division while carrying 3 motherfucking top 10 RBs on their god damn roster.  This team looks competitive and can put up a fuckton of points when it fires on all cylinders.  They expect to take their streak to a W3 after going up against Oregon Trail who hasn't topped 74 points since Week 4.
A fuckin' miracle I tell ya'

4. South Main Mercs – Strength of Schedule or just mother fucking luck.  Currently tied for 1st with J.J. Wattshappenin' and FAF HAM, it's an absolute miracle the Mercs are in this situation.  A miracle called – lowest points allowed in the league.  They've been crashing like the great depression since week 2 and they're STILL on a 5 game winning streak.  Yet to top 100 points, the Mercs are still assembling their team after a good number of trades over the last 2 weeks.  Due to bye weeks, the team hasn't played in it's full post-trade form yet, but it sure as fuck better if they want to stay competitive in the strong Biggie division.
"The East Coast is the better of the two coasts"
5. Four Loko Power Trip – This season has been a cruel bitch mother fucker to Four Loko Power Trip.  Since winning the Bacon Banner in week 4, they've taken a loss in every match up.  Allowing 2nd most points in the league behind MostBlounted, FLPT has only won this season when putting up 98 points or more.  Allen Robinson probably makes their owner want to punch themselves in the face.  The good news is, the 2Pac division is weak as fuck, obviously because the East coast is the better of the 2 coasts, so it can still be turned around in just a few weeks.  This week is an epic W4 Killjoy trophy opportunity against J.J. Wattshappenin'
"Fitzmagic, I miss you…"
"I could really use someone to talk to…"
8. Titties n Trophies – It certainly seems to be raining shit on Titties n Trophies.  First with this OBJ underperforming Diva bullshit, then the Dez Bryant Injury.  Well that motherfucker is gone and Jerick McKinnon is in.  It's clear TnT want to build up their running back stable.  This week they'll be able to put that to the test against their neighbor at the bottom of the 2Pac division.
"Asah duh"
10. Drop it like it's Popp – Since putting up a Bacon Banner performance in Week 5, Popp hasn't topped 79 points.  A combination of injuries, underperformers, and bad bye weeks have left this team in ruins at the bottom of the power
rankings.  Unless Popp can start wheelin' and dealin' like a crack dealer or figure out how to take the silly string out of Alshon Jeffery's knees and replace them with actual human ligaments they'll probably sit back and watch Zeke and Gronk get points while everyone else just hangs out and plays nintendo.  This is a good time to end this Tilt would be this week against fellow cellar dwellar Titties n Trophies.
.