Hello motherfuckers, welcome to week 11!  The trade deadline officially passed at 11AM, so I hope you're all happy with your god damn shitty teams.  Since we only have 3 games left until playoffs, I wanted to bring up the punishment issue.  I know we're all willing to have a punishment for the league (everyone voted YES), but I also know not everyone is stoked on what we voted on.  In retrospect, it was probably a bad idea to bring 4 different ideas to a vote in a 10-team league.  So what I propose is, if you finish dead last and you just can't bring yourself to strap on the tutu and take the car wash shower, you will become 100% responsible for planning the live offline draft party for next year (~$250.00 minimum).  It's up to you to take care of the space, draft board, and refreshments.  If that's something you still can't do, you can either try to get someone like a party planner/third party to handle planning the draft for you, or you will probably not be invited back next year (I really really hope this won't be the case).  Let me know how you guys feel about Plan B.  I'm not willing to twist someone's arm if they don't wanna go through the car wash, but they shouldn't be able to weasel out of it scot-free either.  If someone does take the punishment, I'll book the draft myself and just accept donations from you guys like last time.
Anyways, here are the god damn rankings. Good luck this week.
Truck with Ramp: JJ.  Traffic: Everyone else.
1. J.J. Wattshappenin – These guys are sailing by all you other motherfuckers with no problems whatsoever.  Consistent high scoring and no injury problems, JJ is the clear favorite to win the Porkgasm.  They should easily get to 9-2 facing the Mercs this week, who are on pace to lose a different running back every week.
OTBW preparing to defend 2Pac division.
2. Oregon Trail Battlewagon – A solid core of Newton, Gurley, and Hopkins have allowed this team to climb up the ranks with a comfortable lead in the 2Pac division.  Just another win or two should lock up the 2nd seed with a bye week in the first playoff round.  Battle Wagon is getting awfully close to 5000 career points, they just need to get at least 71 points each game from here on out.  This is it.  Don't get scared now.
3. Team Rex Grossman – Incredible luck in player performances and strength of schedule for Sexy Rexy.  Even with RB and QB woes, Rex currently has the most points in the league while giving up the 2nd fewest.  We saw a small decline in scoring after losing Foster but they still managed to keep racking up good points.  They have only scored fewer than 80 points once this season all the way back in week 4.  Only divisional match-ups remain with a chance to earn the bye week.
Grats on your first PD.

4. Pool Rats – Another one bites the dust.  Pool Rats got scratched off the No Pickle Dick list earning their first PD after 35 career games.  Carlos and Blake are the last 2 active owners remaining without a career PD.  Pool Rats have suffered injury problems all year and it's finally catching up to them.  They have an ugly running back situation to deal with, and losing Edelman really hurts, but they should have enough firepower to keep a playoff spot, but definitely not a sure thing in this Biggie division.
Most Blounted thinks he can.
5. – TheMostBlounted – This team still has a pretty good shot at the post season.  In recent weeks the Biggie division has been on a decline allowing opportunity for more 2Pac teams to enter the playoffs.  Tom Brady and Devonta Freeman are good studs to have in this situation, but the others need to pull out more boom than bust.  A favorable match-up in week 11 against the severely injured Pool Rats, who are basically running on life support, looks like a good week for MostBlounted.
Motorcyclist: Mercs. Cashier: JJ.
6. South Main Mercs –  The Mercs don't look like they're going to come out of mediocrity any time soon.  All the running backs are banged up and everyone else on the squad is putting up the absolute bare minimum.  Not a single player has been explosive at any point this season. The only reason they're still in the playoff hunt is strength of schedule,  they've given up the fewest amount of points this year.  They'll be lucky to get the 6th seed.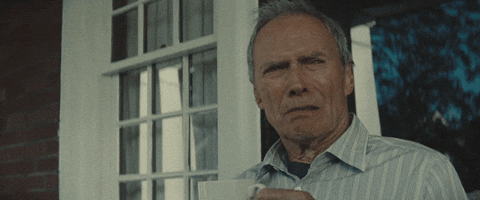 MRW looking at FAF HAM's roster.



7. FAF HAM – Man oh man, this team has not topped 75 points but 3 times this season, and it has not happened since week 4.  I'll save you the trouble.
Popp's girlfriend during the 4th quarter of MNF.
8. Drop it like it's Popp – Nothing comes easy for Popp and neither was last weeks win.  The Bengals made Popp suffer through 4 quarters of Monday Night Football to barely squeak out a 2 point victory on a buzzer beater.  It should have been a slam dunk but the Red Ryder BB Gun was not kind and Popp's girlfriend was unhappy.  They still have a ways to go, but if the right teams lose and they continue to win, they might find themselves in the playoffs for the first time since 2013.
Bart: The Playoffs.  Todd Flanders: Power Trip
9. Four Loko Power Trip – I've talked about luck a lot, but without question, this team has had the absolute worst. They've actually had some really good scoring games over the last 4 weeks, but never able to catch a break as 3 of those games were against Bacon Banner winners.  On top of allowing the most points in the league (by 75 points), Power Trip has not won a game since they played Bangers and Thrash in Week 3.  They have a chance to sweep them here in this bottom of this barrel match-up of week 11.  Oh and they are also the only active original Slab Bacon team to have never appeared in a playoff game.  Stick with it Power Trip, we're pulling for you.
Bowler: Bangers and Thrash. The Ball: Eddie Lacy
10. Bangers and Thrash – Poor Bangers has only racked up 1 win since the Fire Sale.  With probably no chance of making the playoffs, they still have the chance to ruin the hopes of others, provided they set their line-ups to favor the starters rather than the bench.